At 9 p.m. on March 9 last year, the Italian Prime Minister announced an unprecedented measure: immediate containment for the whole country. A population of 60 million has been plunged into the worst emergency since World War II. Convoys of the Italian army began transporting coffins out of Bergamo in the north of the country and no one knew what was to follow.
But in the summer of 2021, all activities except the crowded nightclubs and concerts returned. Tourism had returned to normal and national and international travel was permitted.
As of Monday, the number of new infections per week in Italy was 39 cases per 100,000 compared to 58 in Australia and 478 cases in Britain. There are still severe cases, hospitalizations and deaths (the average for last week was 41 deaths per day in Italy compared to 136 per day in Britain), but the health care system is under control.
Italy, the first western country to be hit by COVID-19, has shown how to find its way. Although frequently criticized for its efficiency gaps, Italy designed and implemented important public health measures against COVID-19 which were then implemented in Europe – such as mandatory masks, " red zones ", curfews and, above all, a national lockdown. Isolated from all neighboring countries, which initially closed their borders, Italy continued to develop its strategy in different ways during the crisis. His experience could be instructive for Australia.
After six weeks of national containment, Italy has gradually lifted all restrictions and the Prime Minister urged the population to take "a calculated risk" and "learn to live with COVID-19". Some were afraid, but many sectors of the economy were relieved, tourism in particular. It was a transitional season, allowing the local population to slowly recover, but the colder weather then resulted in a setback and the country battled the virus until March 2021.
Two major factors relevant to Australia at the moment have changed the scenario.
First, the vaccination campaign has accelerated successfully. Today, Italy has more than 74% of the total population fully vaccinated and has started the third dose for selected groups. To further intensify care, proof of full vaccination ("green pass") has been made compulsory for working and entering all public spaces, including restaurants and transport.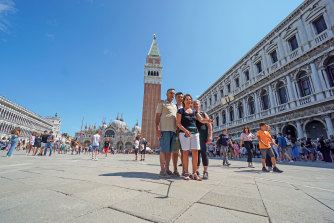 Second, restrictions have become increasingly concentrated at the regional level, using different parameters to trigger them. Initially, the policies were based on the R, or virus reproduction rate, which was considered controversial. Although providing a better indication of the epidemiological trend of infections, R is difficult to calculate, released once a week (for the previous week), and difficult to interpret. After a long debate, it was replaced by three indicators: weekly incidence rates per 100,000, occupancy rates in intensive care hospitals and occupancy rates in other medical services dedicated to COVID-19. The advantage of these measures is that they are all publicly available at provincial, regional and national level on a daily basis, so much better suited to engage citizens.